I am having so much fun tonight! I'm basically a single woman for the entire evening.
<happy dance>
My 17 year old son is the only one here and of course Albert, who is always by my side.
My honey is in Boston for a business conference and my other 3 kiddos are otherwise engaged. Soooo what is a girl to do?
Coming home to not only one but two packages certainly started my night off great! More on that a little later. I made my favorite meal of all time, pasta primavera.
I know this is not a cooking blog but since this is my favorite meal I am going to share it.
Super easy and if you use whole grain pasta, which I did, it is a healthy indulgence.
Good olive oil, ripe grape tomatoes, mushrooms and my favorite herb basil.
Saute rough chopped veggies in olive oil and garlic, a little salt and pepper.

Recently I discovered how delicious primavera is with artichokes. Adds a nice yummy tang

.


Once it's all done, drizzle with olive oil and sprinkle with a generous amount of grated parmesan

.
Perfection! My primavera with San Pellegrino sparkling water. Here it is sitting on the end table next to my chaise. Yup, I'm gonna eat this fab meal while watching some food network, HGTV and maybe a lifetime for women movie! Doesn't take much to make this girl happy!
Here I am looking all lady like just before I dive in.
Here I am after finishing the ENTIRE bowl, not so lady like

.
So moving onto one of the packages that arrived today. Come take a look with me....
I
'It' came in a wonderful wooden box that was hand stamped
Oh what is this, I can't quite tell?
Betcha can't guess what it is?
 
It's my new absolutely beautiful bracelet made from a teacup!




I found this beauty on Etsy at the

Stay Gold Mary Rose

shop which is located in the United Kingdom

.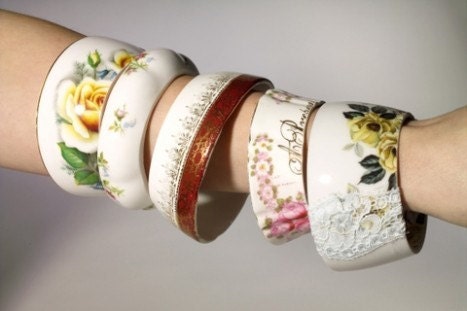 Here are a few more from the shop.
Last but not least, cause' I gotta get off this computer so I can take advantage of this 'me' time!
My beautiful fragrant candle from The Enchanted Home Shop. That came earlier this week! It is hard to see but the glass has beautiful etching. Shout out to Tina!!
Ciao!
Linking up:
The DIY Dreamer