Here were my inspiration photos for this project:
My other inspiration was my gorgeous concrete urn displayed in my bathroom
It got me thinking that if I played around a little bit with some plaster of paris, I might be able to get the peat pots to look similar to concrete and display them in the same bathroom.
I am extremely happy with how they turned out
It was super simple. All I did was:
-purchase some peat pots which are dirt cheap
pun intended
-mix up some plaster of paris to get a fairly thick consistency and dab it onto the outside of the pot, skipping the bottom. Be sure to make it thick in some areas and less thick in others. This gives a much more natural finished appearance.
Once this has completely dried, paint it! I mixed what I had on hand which was Dove Gray with Baby Blue by folkArt. Once that dried, I went back with a darker gray (almost black that I mixed myself) and dabbed around a bit then blotted with a paper towel.
Once I was happy with the look, I added the metal bookplates. I got mine in the scrapbook section of AC Moore. I tied them with some gray shear ribbon. I then printed 3 seperate words onto light pink vellum (vellum is so versatile and is also sold in the scrapbook section where all the loose paper is sold). My message is 'deams come true'.
Fill with floral foam, then add your favorite dried flower. I added hydrangeas from my previous season of blossoms, top with moss and you have an earthy new vignette.
Give it a try if you like the look of concrete. I hope you're as happy with your results as I am with mine!
I've linked this post to:
Domestically Speaking
{Primp}
Handy Man Crafty Woman
House of Grace
Beneath My Heart
BeColorful
The Red House/Mosaic Monday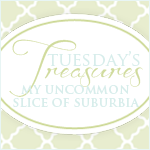 The Shabby Creek Cottage